For Parents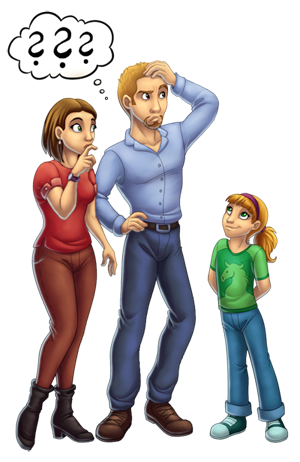 About Us
White Oak Stables is a free online horse game where people of all ages can learn responsible horse care and have fun at the same time. We're kid tested and parent approved. Members participate in english, racing and western competitions as well as breed, show, race, train, and care for their own virtual horses. We host a variety of events such as games, chat room parties, contests and give out lots of free prizes every year.
Our Mission
White Oak Stables strives to give people of all ages a place to relax and share their mutual love of horses. Our focus is to educate as well as stress realistic equine care and management in hopes of stopping the abuse and slaughter of 40,000 to 80,000 equines a year. Our game is designed to emphasize realistic time, skill and money management needed to run a successful horse stable. Members must feed, care for, and breed their own horses responsibly otherwise the animals die as they would in real life. Members learn there are consequences for all of their actions. In this way our game encourages horse rescue and rehabilitation of unwanted, neglected and abandoned horses. It is our hope these values will be instilled in future generations.
Community Outreach
White Oak Stables features horses and horse rescue organizations from around the globe in our game newspaper. We're always happy to help a rescued horse find a home. Additionally, White Oak Stables donates yearly to the Equine Rescue League, a local horse rescue.
Internet Safety
Most of the members of White Oak Stables are children and teenagers, however as our website popularity grows so do the age ranges on the game. We encourage parents to go over basic internet safety with their children and explain the dangers of giving out personal information to strangers over the internet. For more internet safety guidelines and how to talk to your children please visit A Parent's Guide to Internet Safety published by the FBI.
Parental Controls
Your child's safety and privacy is top priority on White Oak Stables. For their safety and security we provide a number of different account permissions with easy to change access and social levels. We make it easy for you to determine what your child should have access to, who they can interact with and what content is available to them. For more information on parental controls, to see our age recommendations and learn how to manage your child's account please referrer to our detailed Parental Controls information.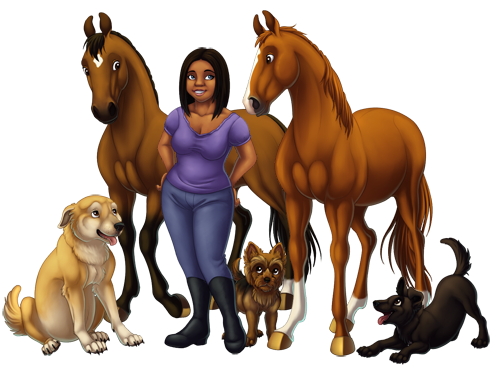 About The Owner
My name is Greta "Jade" Krafsig and I'm the owner of Design1Online, LLC a small game development company specializing in games for women and girls.
Like most girls I grew up completely horse crazy and still am to this day. I love programming almost as much as I love animals and working with kids. I bought my first horse Erin in July 2007. She's a 1999 bay Thoroughbred mare out of a fairly well known VA steeplechasing stallion, Aaron's Gold. My second horse, Abbott, arrived in April 2010. He's a cute 2004 chestnut Quarter Horse gelding I was originally planning to train and sell... until I realized what a fabulous horse he is. I got my third horse, Emma, on June 10, 2015. She's a chestnut Irish Sport Horse and a super talented jumper.
Now for my three unique dogs. Luna is a Lab/Husky mix who was feral and running loose for four months before the county animal control caught her. Because she spent the beginning of her life as a feral dog she's pretty crazy and I don't ever expect her to be normal. She passes out when she sees things that scare her and spends a lot of the day hiding under my bed. But during the night, when its quiet out, she sneaks out from under the bed and acts like a normal dog -- playful and rowdy. Stevie is a purebred Yorkshire Terrier I got from a local breeder and friend. Stevie's got such a big personality that I tell people he's a big dog trapped in a little dog's body. Finally there's Dexter, a Dachshund/Pomeranian mix. I rescued Dexter from a shelter in southern Virginia where he was abandoned when he was only 5 weeks old. Dexter loves to bark and chase his tail when he plays.
I'm thrilled you've stopped by and I hope to see you and your children playing soon!
Jade Krafsig, CEO